Infinity Walk Topics
For Preschool Instructors
Keeping Infinity Walk Fun
Preserving Love of Infinity Walking
Small Groups and Special Pairs
Preschool Classroom
Infant & Toddler Stroller Riding
For a young child, Infinity Walk is a fun game of "how many things can you do at once", making it a perfect activity for pre-school. Children love to move; and, the alternating left and right circling while adding age-appropriate challenges is their idea of a very engaging play activity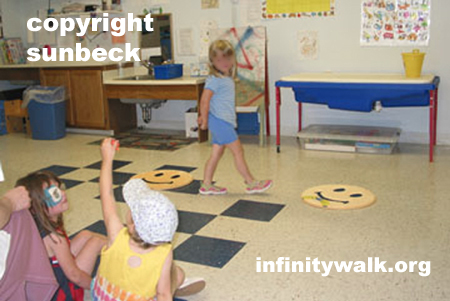 Age 3.5:
Infinity Walking and Naming Colors
The children in these photos were part of a two-year Infinity Walk study in a preschool. Their enthusiasm for the Infinity Walk "game" never waned. If a day of playing Infinity Walk had to be skipped, because of a change in scheduling, the children expressed disappointment and asked for it the following day.
Over the two years, the children showed earlier gains in attention span, sensorimotor skills, expressive language, social maturity and self-confidence, when compared to preschool classes of past years.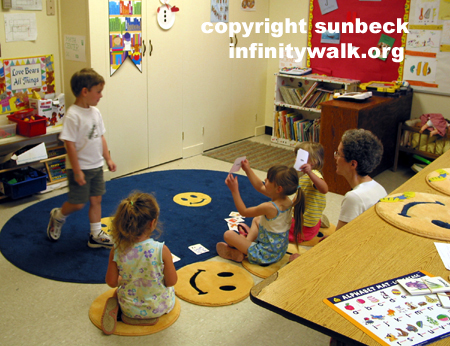 Age 5:
Infinity Walking with Flashcards
If you are interested in adding Infinity Walk to your preschool or playing Infinity Walk with your young child at home, a video is available to observe preschool Infinity Walking in action and progress made during the first month and over time. Viewing this video is the minimum that is recommended before introducing Infinity Walk to preschoolers.
(Companion video to the 2002 text, The Complete Infinity Walk: BOOK I The Physical Self.)
To learn more about introducing Infinity Walk to preschoolers, the companion video to the 2002 text, The Complete Infinity Walk: BOOK I The Physical Self is recommended
Leonardo Foundation Press 151 Panorama Trail Rochester, New York USA 14625-1843 info@infinitywalk.org
Copyright © Sunbeck, All Rights Reserved Infinity Walk® and Infinity WalkAbout® are US Trademark & Patent Protected